Prof. GIAN LUIGI DE ROSA
| | |
| --- | --- |
| Qualifica | Professore Associato |
| Settore Scientifico Disciplinare | L-LIN/09 |
| Telefono | 06 57338682 |
| Email | gianluigi.derosa@uniroma3.it |
| Indirizzo | Via del Valco di San Paolo 19 |
| Struttura/Afferenza | Dipartimento di Lingue, Letterature e Culture Straniere |
| Altre informazioni | Curriculum |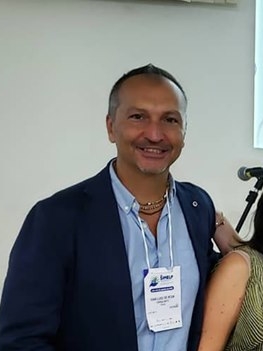 Qualora le informazioni riportate a lato risultino assenti, incomplete o errate leggi le seguenti istruzioni
Per telefonare da un edificio dell'Ateneo all'altro SE il numero unico inizia con "06 5733xxxx" basta comporre le ultime quattro cifre del numero esteso.
Profilo
INSEGNAMENTI
Prodotti della ricerca
Avvisi
Ricevimento e materiale didattico
Profilo
Titoli e cariche
È Professore associato in Lingua e Traduzione - Lingue Portoghese e Brasiliane dal 2015, dopo aver ricoperto il ruolo di Ricercatore a partire dal 2007 (dicembre 2007-settembre 2019 presso l'Università del Salento). È membro del comitato scientifico ed editoriale di diverse riviste di ambito linguistico. È stato Presidente della V edizione del SIMELP - Simpósio Mundial de Estudos da Língua Portuguesa (www.simelp.it) e ha diretto sino al 2019 la "Unisalento Summer School of Audiovisual Translation" e la Cátedra Camões "Manoel de Oliveira".
Dal 2019 è membro del Progetto di Ricerca Internazionale "Gramática do Português" da Associação de Linguística e Filologia da América Latina (ALFAL), coordinato da Jussara Abraçado (UFF). Dal 2018 è membro, in qualità di Pesquisador Convidado, del Progetto di Ricerca Internazionale "History, Circulation and Analysis of Literary, Artistic and Social Discourses", coordinato da José L. Jobim e Silvio Renato Jorge (UFF/CAPES-Brasile). Dal 2017 è Principal Investigator e coordinatore del Gruppo di Ricerca Internazionale "I-FALA Luso-Brazilian Film Dialogues as a resource for L1 & L2 Learning and Linguistic Reserach," (UNIROMA3, UNIPISA, UNICHIETI, UNISALENTO, ULISBOA (Portugal), UFG (Brasil), UEG (Brasil), UnB (Brasil). Dal 2017 è membro, in qualità di Pesquisador Convidado, del Progetto di Ricerca Internazionale "Produção da Enciclopédia audiovisual virtual em análise do discurso e áreas afins: novos verbetes e legendagem para divulgação científica", coordinato da Bethania Mariani (Instituto de Letras – UFF/CNPq-Brasile). Dal 2014 è membro del Gruppo di Ricerca Internazionale "Rede de Estudos de Língua Portuguesa ao Redor do Mundo" – RELPMUND (CNPq), coordinato da Vânia Cristina Casseb-Galvão (UFG/CNPq-Brasile). Progetto di ricerca: O português brasileiro em contexto italiano: aspectos sociais, políticos e linguísticos (Fase II: Aplicação).
Didattica
È titolare dei seguenti corsi:
1) Lingua e Traduzione Portoghese e Brasiliana 1;
2) Lingua e Traduzione Portoghese e Brasiliana 2;
3) Lingua e Traduzione Portoghese e Brasiliana 3;
4) Lingua e Traduzione Portoghese e Brasiliana 1/2 LM.
Ricerca
La produzione scientifica consta di oltre centotrenta pubblicazioni, fra cui 4 lavori di carattere monografico: "Ambito Disciplinare 5", Napoli, 1999 (in collaborazione con Alessandra Giovannini); "Pagine di Celluloide", Salerno, 1999 (in collaborazione con Marco Cipolloni); "Identità culturale e protonazionalismo: il ruolo delle Accademie nel Brasile del XVIII secolo", Milano, 2011 e "Mondi Doppiati. Tradurre l'audiovisivo dal portoghese tra variazione linguistica e problematiche traduttive", MIlano, 2011.
Linee di ricerche:
a) Policentrismo linguistico: il filone di ricerca sul policentrismo linguistico della lingua portoghese è incentrato sull'analisi della sua realtà policentrica, attraverso corpora letterari e filmici, ed è orientata ad evidenziare a livello fonetico-fonologico, morfologico, sintattico, semantico e pragmalinguistico le peculiarità delle varietà del portoghese, tanto quelle in via di ristandardizzazione (portoghese europeo e brasiliano), quanto quelle in via di nativizzazione (portoghese angolano e mozambicano).
b) Insegnamento del portoghese L2/LS attraverso la traduzione audiovisiva: in ambito didattico, si è sperimentato l'uso di strategie di sottotitolazione, differenziandole a seconda del genere e della tipologia testuale dei testi audiovisivi presi in esame. Si è tentato, inoltre, di evidenziare l'importanza della pratica traduttiva come attività per l'apprendimento linguistico partecipato della L2/LS, approfondendo le ricerche in ambito linguistico (in particolare in ambito pragmalinguistico) e traduttivo (nello specifico della traduzione audiovisiva e intersemiotica). A ciò si aggiunga un sottofilone di ricerca, che riguarda le problematiche legate alla traduzione audiovisiva dello humor.