Prof. LEOPOLDO NUTI
Qualifica
Professore Ordinario
Settore Scientifico Disciplinare
SPS/06
Telefono
0657335309
Cellulare aziendale
87728
Email
leopoldo.nuti@uniroma3.it
Indirizzo
Via Gabriello Chiabrera 199
Struttura/Afferenza

Dipartimento di Scienze Politiche

Altre informazioni
Sito web personale
Curriculum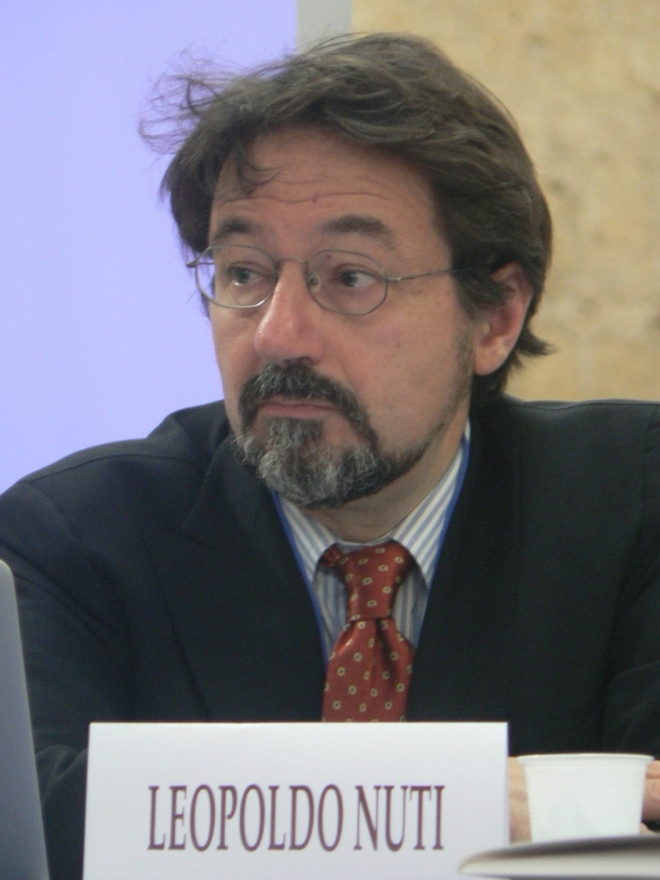 Qualora le informazioni riportate a lato risultino assenti, incomplete o errate leggi le seguenti istruzioni
Per telefonare da un edificio dell'Ateneo all'altro SE il numero unico inizia con "06 5733xxxx" basta comporre le ultime quattro cifre del numero esteso.
Profilo
INSEGNAMENTI
Prodotti della ricerca
Avvisi
Ricevimento e materiale didattico
Profilo
Titoli e cariche
Cariche
2010 -2020, Co-Direttore, Nuclear Proliferation International History Project, un progetto di ricerca internazionale finanziato per 10 anni dalla Fondazione Carnegie. Tra le numerose attività, il progetto organizza ogni anno una Summer School a livello dottorale internazionale di dieci giorni. Informazioni reperibili al sito http://www.wilsoncenter.org/program/nuclear-proliferation-international-history-project
2020-presente,  Coordinatore scientifico nazionale del PRIN 2017 "Science, technology and international relations: case studies in Italian foreign policy"
2019-presente, coordinatore della Sezione di Studi Europei e Internazionali della Scuola Dottorale in Scienze Politiche, Università Roma Tre
Socio della Society for Historians of American Foreign Relations (SHAFR)
Socio dell'Istituto Affari Internazionali
Socio Corrispondente dell'Accademia Senese degli Intronati          
Partecipazione a riviste o collane editoriali
2018- presente, direttore della Rivista Italiana di Storia Internazionale
2018 – presente, membro dell'editorial board del Journal of Transatlantic Studies
2016 – presente, membro dell'editorial board del Journal of Strategic Studies
2011 – presente, membro dell'Editorial Board della rivista Cold War History. Dal Dicembre 2013 al marzo 2014 e dal settembre 2016 al dicembre 2016 è stato Editor in Charge
2005 – presente, membro del Consiglio Scientifico della rivista Mondo Contemporaneo
Didattica
Storia della relazioni internazionali (triennale)
The international system after the end of the cold war (magistrale)
Ricerca
I principali campi di ricerca del Prof. Nuti sono la storia delle relazioni transatlantiche, la storia delle armi nucleari, la storia delle relazioni tra gli Stati Uniti e l'Italia durante e dopo la seconda guerra mondiale, e la storia della politica estera italiana.