Prof.ssa SABRINA VELLUCCI
Qualifica
Professore Associato
Settore Scientifico Disciplinare
L-LIN/11
Telefono
0657338502
Fax
0657338356
Cellulare aziendale
81942
Email
sabrina.vellucci@uniroma3.it
Indirizzo
Via del Valco di San Paolo 19
Struttura/Afferenza

Dipartimento di Lingue, Letterature e Culture Straniere

Altre informazioni
Sito web personale
Curriculum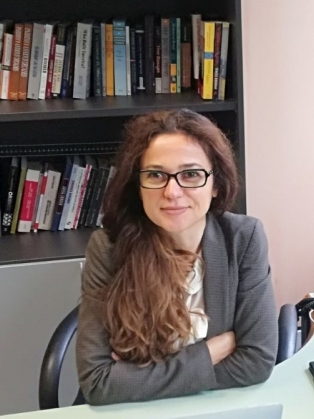 Qualora le informazioni riportate a lato risultino assenti, incomplete o errate leggi le seguenti istruzioni
Per telefonare da un edificio dell'Ateneo all'altro SE il numero unico inizia con "06 5733xxxx" basta comporre le ultime quattro cifre del numero esteso.
Profilo
INSEGNAMENTI
Prodotti della ricerca
Avvisi
Ricevimento e materiale didattico
Profilo
Titoli e cariche
Sabrina Vellucci è dottore di ricerca in Studi Americani e professore associato di Lingue e Letterature Angloamericane (L-LIN/11) presso l'Università degli Studi Roma Tre, dove ha preso servizio nel 2011. È membro del consiglio del Dottorato in Lingue, Letterature e Culture Straniere presso il medesimo Ateneo. È, inoltre, direttore del Seminario di Letteratura, Storia e Cultura degli Stati Uniti presso il Centro Studi Americani di Roma e co-direttore dell'Italian Diaspora Studies Summer Seminar (John D. Calandra Italian American Institute, Queens College, CUNY-Università Roma Tre). Fa parte del comitato di consulenza della rivista internazionale Letterature d'America ed è vicepresidente dell'Associazione Italiana di Studi Nord-Americani.
Didattica
È titolare dei corsi: Lingue e Letterature Angloamericane III; North American Literatures and Visual Cultures (LM1); American Fictions: Plots and Counterplots (LM2).
Ricerca
Si occupa delle relazioni tra letteratura, cinema e arti visive, di scritture femminili e di scritture diasporiche e della migrazione nell'ambito della cultura statunitense.