Prof.ssa EMERI FARINETTI
| | |
| --- | --- |
| Qualifica | Professore Associato |
| Settore Scientifico Disciplinare | L-ANT/10 |
| Email | emeri.farinetti@uniroma3.it |
| Indirizzo | Via Ostiense 234 |
| Struttura/Afferenza | Dipartimento di Studi Umanistici |
| Altre informazioni | Curriculum |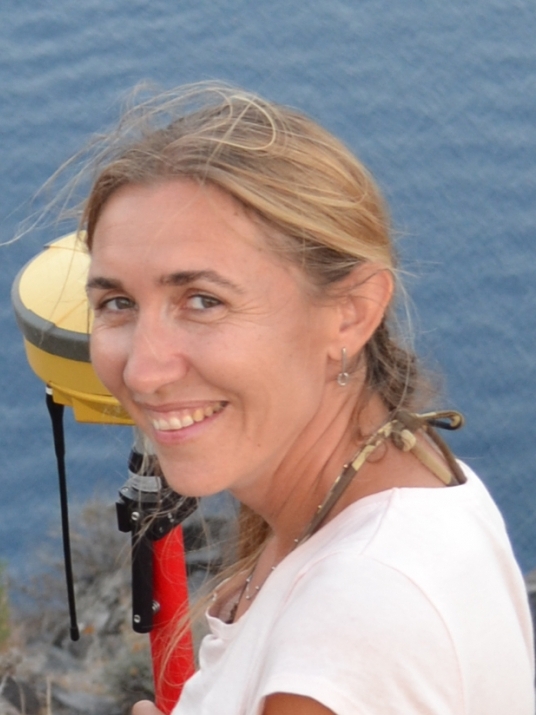 Qualora le informazioni riportate a lato risultino assenti, incomplete o errate leggi le seguenti istruzioni
Per telefonare da un edificio dell'Ateneo all'altro SE il numero unico inizia con "06 5733xxxx" basta comporre le ultime quattro cifre del numero esteso.
Profilo
INSEGNAMENTI
Prodotti della ricerca
Avvisi
Ricevimento e materiale didattico
Profilo
Ricerca
Direzione del progetto ANCIENT HALIARTOS LOWER TOWN MAPPING PROJECT, inserito all'interno del più ampio e decennale Boeotia Survey project (prof. J.L.Bintliff e prof. A.Snodgrass). Ai lavori sul campo, nel luglio 2018 e nell'aprile 2019, hanno partecipato 12 studenti della LM in Archeologia del DSU, che sono stati così inseriti in un contesto di ricerca internazionale con un team di ricerca proveniente da vari atenei europei e con la possibilità di utilizzare tecnologie digitali innovative per il rilievo sul campo.
Direzione del progetto WEMALP (WESTERN MEGARIS ARCHAEOLOGICAL LANDSCAPE PROJECT), in collaborazione con la SAIA (Scuola Archeologica Italiana di Atene) e la soprintendenza ai beni archeologici dell'Attica occidentale (Ministero Ellenico della Cultura). Ai lavori sul campo, nel giugno e settembre-ottobre 2019, hanno partecipato 8 studenti della LT in Archeologia e Storia dell'Arte e della LM in Archeologia del DSU. La ricerca, avviata nel giugno del 2019 per un quinquennio (2019-2023) prevede lavoro sul campo e di ricerca nel territorio dell'antica polis di Megara.
Attività di ricerca correlate al Progetto di Ricerca dal titolo Paesaggi Romani di Grecia. Un approccio comparativo ed integrato da realizzarsi nell'ambito del Programma triennale 'Rita Levi Montalcini' (2017-2020).
- Implementazione banca dati in PostGres per la gestione ed il monitoraggio sulla qualità dei dati territoriali; studio di fattibilità di applicazione di applicativi CRM per la gestione dei dati territoriali
- Collaborazione scientifica con la Scuola Archeologica Italiana di Atene e il CNR Ellenico (KERA), in particolare per l'esame delle strutture rurali di epoca romana nel paesaggio greco ed una prima ipotesi di classificazione, in previsioni dell'incontro sulle economie rurali in previsione per il 2021.
- Organizzazione scientifica del workshop internazionale Local responses to the Roman Impact on the Greek Landscape (11 ottobre 2019) sulle trasformazioni del paesaggio nelle aree che hanno subito l'impatto della Romanizzazione, che ha visto la partecipazione della maggior parte dei progetti di ricognizione archeologica di superficie in corso o di recente realizzazione in Grecia.
Coordinamento scientifico del progetto di ricerca su Pausania e l'Atene di età Adrianea, con una fuoriuscita prevista in WebGIS, in collaborazione con la Scuola Archeologica Italiana di Atene, avviato nel 2017.
Collaborazione al progetto di ricerca Therasia. Culture insulari e diacroniche (Università dello Ionio – GR). Coordinamento unità di ricerca di geomatica e di ricostruzione delle paleo-morfologie in collaborazione con l'Istituto Geologico Nazionale Ellenico (IGME).
Collaborazione con la Scuola Archeologica Italiana di Atene, come collaboratore del Direttore per la Ricerca (dal 2017). Programmazione scientifica e organizzazione di eventi scientifici, presentazioni di libri, conferenze e workshop.
Responsabile del DSU per la Convenzione stipulata con l'ISPRA e il Servizio geologico nazionale, avente come finalità scientifica la conoscenza e la valorizzazione della risorsa idrica nell'Agro Romano, attraverso lo studio diacronico del territorio e delle interazioni uomo-ambiente. Organizzazione (in rappresentanza del DSU) del convegno 'L'ACQUA, da modificante a modificata' in previsione per il prossimo 14 maggio 2020 presso il parco regionale dell'Appia Antica.
Management Committee substitute member per l'Italia nell'ambito del progetto europeo COST ACTION CA15201 Archaeological practices and knowledge work in the digital environment –Arkwork (da marzo 2018).
Membro dal novembre 2018, in rappresentanza del DSU, della associazione internazionale ArcLAND ArchaeoLandscapes international.