Prof. GINO RONCAGLIA
| | |
| --- | --- |
| Qualifica | Professore Associato |
| Settore Scientifico Disciplinare | M-STO/08 |
| Email | gino.roncaglia@uniroma3.it |
| Indirizzo | Via Ostiense 234 |
| Struttura/Afferenza | Dipartimento di Filosofia, Comunicazione e Spettacolo |
| Altre informazioni | Curriculum |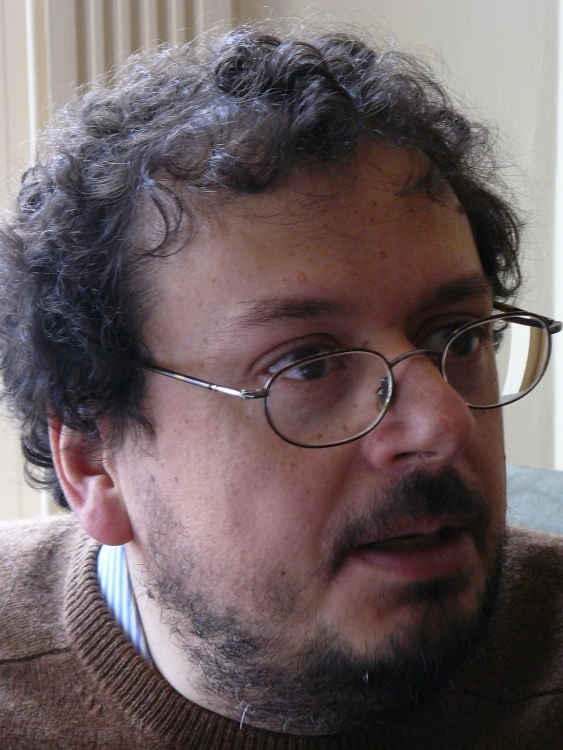 Qualora le informazioni riportate a lato risultino assenti, incomplete o errate leggi le seguenti istruzioni
Per telefonare da un edificio dell'Ateneo all'altro SE il numero unico inizia con "06 5733xxxx" basta comporre le ultime quattro cifre del numero esteso.
Profilo
INSEGNAMENTI
Prodotti della ricerca
Avvisi
Ricevimento e materiale didattico
Profilo
Titoli e cariche
Professore di II fascia con abilitazione nazionale a professore di I fascia. Membro del Consiglio di Amministrazione della Fondazione Roma Tre Education. Membro del Consiglio Biblioteca Petrocchi. Membro del gruppo CRUI-OA; membro dell'osservatorio scienza aperta CRUI; membro del Consiglio scientifico della Fondazione Scuola Patrimonio Culturale (Ministero Cultura). Consulente di RAI Cultura. Profesor Honorario dell'Universidad Nacional Villa María (Argentina)
Didattica
Docente di Editoria digitale, Introduzione alle Digital Humanities, Digital Humanities e Filosofia dell'informazione.
Ricerca
Nell'ambito dell'attività di ricerca, ho lavorato prevalentemente su due tematiche: la storia della logica tra il Medioevo e Leibniz e (interesse oggi preponderante) l'editoria digitale e le nuove forme di testualità. Nel primo campo mi sono occupato di storia della logica modale, della riflessione logica nella seconda scolastica tedesca, delle discussioni sugli enti inesistenti nella logica tardo scolastica e post medievale e della logica di Leibniz. Nel secondo campo mi sono occupato soprattutto di libri elettronici, dei mutamenti nelle forme della lettura, di e-learning e degli strumenti di produzione culturale in rete. Sono autore o coautore di oltre centoventi fra libri e pubblicazioni, fra cui la fortunata serie di manuali Laterza sull'uso di Internet (6 volumi e oltre 20 ristampe dal 1996 al 2004), il saggio Il mondo digitale (con Fabio Ciotti, Laterza 2000, 11 ristampe), il saggio La quarta rivoluzione. Sei lezioni sul futuro del libro (Laterza 2010, 3 ristampe), il saggio L'età della frammentazione. Cultura del libro e scuola digitale (Laterza 2018, seconda edizione accresciuta 2020), e un volume sul dibattito logico nella scolastica protestante tedesca (Palaestra Rationis. Olschki 1996). Sono coautore – con Mirella Capozzi – del capitolo dedicato alla logica moderna nel volume The Development of Modern Logic edito da Oxford University Press. Sono responsabile scientifico del corso 'Formazione su misura' Mondadori Educational dedicato all'uso del digitale in ambito scolastico, che nel periodo dell'emergenza COVID-19 è stato inserito fra le iniziative gratuite di solidarietà digitale ed è stato frequentato da oltre 40.000 docenti. Sono socio fondatore dell'Associazione Italiana per l'Informatica Umanistica e la Cultura Digitale (AIUCD) e dell'associazione culturale Liber Liber, promotrice del Progetto Manuzio, biblioteca digitale gratuita in rete; sono socio dell'Associazione Forum del libro, della Società Italiana di Logica e Filosofia delle Scienze, della Società Italiana di Filosofia, della Società Italiana di Filosofia Analitica, della Società Italiana di e-Learning, della Società Italiana di Scienze Bibliografiche e Biblioteconomiche, dell'Associazione Italiana Biblioteche, dell'associazione Collaborative Knowledge Building Group (CKBG). Faccio parte del Comitato Scientifico delle riviste 'Bollettino dell'Associazione Italiana Biblioteche', 'Biblioteche Oggi Trends', 'Bibliothecae', 'Digitalia', 'Culture Digitali'. Ho svolto conferenze e lezioni per numerose istituzioni pubbliche e private, inclusi corsi o cicli di più lezioni per le università di Roma 'La Sapienza', Firenze e Venezia. Per conto del Forum del libro, ho coordinato il gruppo di ricerca italiano del progetto di ricerca europeo Erasmus+ 'The Living Book' (2016- 2019) e coordino il gruppo di ricerca capofila del progetto di ricerca europeo Erasmus+ 'ReadTwinning' (2019-in corso). Faccio parte del comitato scientifico del progetto 'Ti Leggo' della Treccani (2016-in corso) e della giuria del Premio internazionale Moebius di Lugano per l'editoria in transizione (2004-in corso).